Arabic calligraphy, or Islamic calligraphy, is of enchanting beauty! It is with no doubt the ultimate art of artistic and aesthetic handwriting. But Arabic calligraphy is not merely an art form; it also involves divine and moral representations. While many religions have made use of figural images to convey their core convictions, Islam turned to the use of the words shapes to avoid a possible implication of idolatry as seen in figural arts.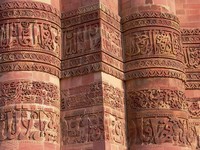 In Islamic and Arabic cultures, calligraphy became a highly respected expression of art. Arabic calligraphy is a primary form of art for Islamic visual expression and creativity. Throughout the Islamic world, Arabic calligraphy is a symbol representing unity, beauty, and power. Calligraphy has arguably become the most venerated form of Islamic art because it provides a link between the languages of the Muslims with the religion of Islam. The holy book of Islam, the Qur'an, has played an important role in the development and evolution of the Arabic language, and by extension, calligraphy in the Arabic alphabet. Proverbs and complete passages from the Qur'an are still active sources for Islamic calligraphy.
Islamic Mosque calligraphy is a style of calligraphy found in and out of any mosque. It is considered to be part of Arabesque. Arabesque is a form of Islamic art known for its repetitive geometric forms creating beautiful decorations. These geometric shapes often include Arabic calligraphy written on walls and ceilings inside and outside of mosques.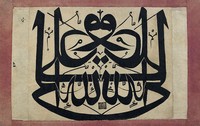 Sources:
IslamicArt.com Highly recommended site, in-depth and scholarly information about the origins of calligraphy, the reform of Arabic writing, about noble calligraphers, writing instruments. Also offers many images and presentation of unique calligraphic works and major calligraphic styles!